EV charger, also known as EV charging station, EV charging point, etc., is the main power supply equipment for electric vehicles. According to different power, there are different classification methods in Europe and North America. Generally speaking, when it comes to EV chargers, people spontaneously think of level 2 EV chargers with a charging power of 7kW or 22kW. EV chargers are usually designed as wall mounted, which not only has lower cost, but also is more convenient for transportation, so it is generally called EV chargers (wallbox chargers). Compared with portable EV chargers, EV chargers (wallbox chargers) can achieve higher charging power, more complex charging settings and charging functions, a more stable charging environment, and support limited user groups and billing functions. It is the mainstream choice in both home charging market and the commercial charging market.
If you plan to develop an electric vehicle charger, it is important to first determine the power output you need. There are two types of electric car chargers:
| EV Charger Type | Output Power | Target Area |
| --- | --- | --- |
| Single-phase | 3.5 kW - 7 kW | Europe, North American |
| Three-phase | 11 kW - 22 kW | Europe |
Some customers think it is best to use EV chargers with a wide range of power output, but this is not the case. Different power output requires different product design, configuration and protection settings. This will directly affect your cost budget, so it will also affect the price competitiveness of products when they are launched.
Therefore, before doing anything else, you need to determine your target market, and then determine the power output range of EV chargers according to the needs of the market.
Different display modes directly determine the design idea and overall style of the electric vehicle charger. For the display screen, it is not just a matter of choosing a size. A well-designed scale will directly determine the visual comfort of EV charger, just like Apple's repeated attempts on iPhone screen scale. Therefore, when choosing electric vehicle charger, we must pay attention to the display screen and its size. A good electric vehicle charger should have a smooth design, with a evenly proportional display screen, which is easy to watch.
EV Charger Mode Selection
According to different charging methods, EV charger are divided into two types. The structures and installation methods of these two modes are different.
Different countries and markets have different certification requirements for products. Different product certifications have different design requirements for products. For example, the selection of components and materials of EV products designed according to CE standards is significantly different from products designed according to TUV standards. This may have a significant impact on the design process and product costs.
CE is the most basic certification of product quality in the European Union. Without CE, it is impossible to enter the European region for sales, and the certification fee is relatively cheap.
TUV products in the European Union have high-specification certification. Its test standard is higher than CE, which has higher market recognition and higher certification costs.
UL is a high-standard certification in North America and is recognized as one of the safest certifications in the world. It is a guarantee of quality for consumers, but the certification cost is very high.
RoHS is the certification of products meeting environmental protection requirements in the European Union, which mainly detects six categories of hazardous substances in products.
You must make clear where your target market is to determine the certification you need to obtain. The lack of necessary certification will not only make the goods encounter difficulties at customs but also affect the sales plan. And obtaining unnecessary certification not only wastes energy and money but also does nothing to help sales.
Few clean energy sectors in the world are as dynamic as the electric vehicle market. In 2021, the number of electric vehicles in the world exceeded 16.5 million. As early as 2012, the number of electric vehicles in the world was less than 2 million. The takeover of PHEV is an important force that cannot be ignored in the development trend of the EV industry, and it is also the transition from fuel consuming vehicles to pure EVs. However, it cannot keep up with the development speed of BEV. According to the current growth rate (2021), the global pure battery vehicles are expected to far exceed fuel consuming vehicles! The development trend seems clear: BEVS is the most promising for future development, but even so, before they completely replace fossil fuels, they still face many challenges, and China will become an indispensable backbone in the global EV market.
Moreover, with rising industrialization, Asia Pacific nations are moving toward web based modern exercises in each space. Nations like as Japan, Australia, and South Korea as per the GSM Association, are progressing in their investigation of the conceivable outcomes of new administrations and connected gadgets. Also, the car business is flourishing in the locale. Asia Pacific is the world's most noteworthy producer of automobiles. Thus, the extension of these end-use enterprises is probably going to drive the APAC market over the conjecture period.
Latin America and the Middle East and Africa are anticipated to see dramatic improvement because of expanded interests in the oil and gas industry and expanded building movement inside the areas, which advances the extension of the private and business areas.
Electric vehicles have turned into a fundamental part of the car business. It gives a way toward more noteworthy energy effectiveness, as well as lower outflows of toxins and other ozone depleting substances. The key components driving this ascent incorporate rising ecological worries, as well as gainful government endeavors. The yearly deals volume of electric traveler vehicles is assessed to surpass 5 million units toward the finish of 2025, and it is normal to represent 15 percent of complete vehicle deals toward the end of 2026.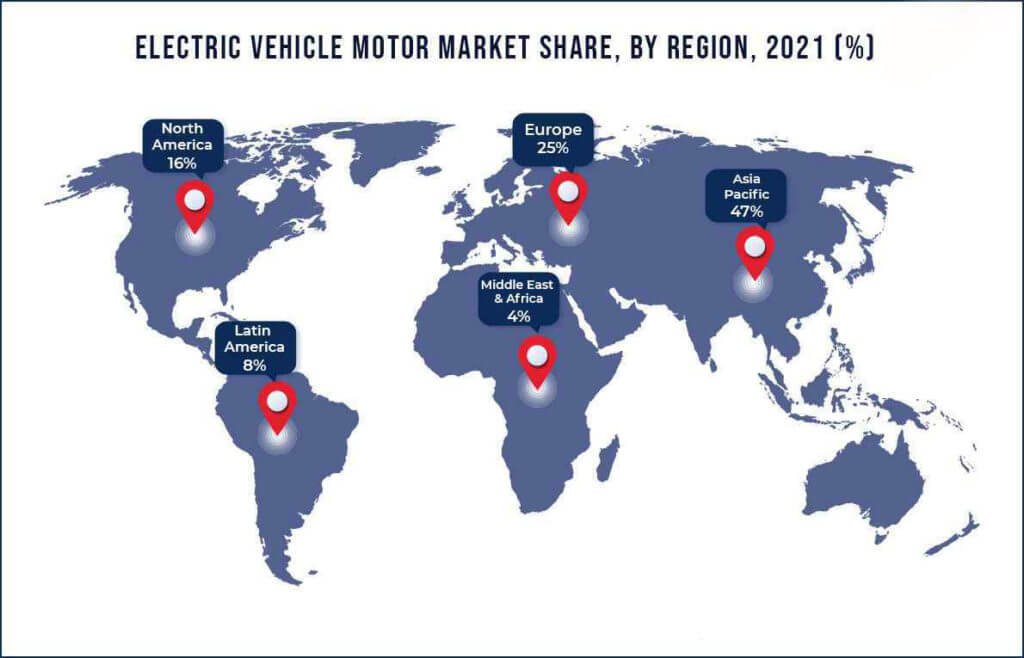 The global electric vehicle (EV) charger market size was valued at USD 7.01 billion in 2021 and it is expected to worth around USD 64.67 billion by 2030 with a remarkable CAGR of 28% from 2022 to 2030.
The global EV charger market is expected to witness a burgeoning growth in the forthcoming years owing to the various factors such as surging sales of electric vehicles across the globe, rising demand for zero emission vehicles, and growing government initiatives to foster the adoption of electric vehicles. The government in various developed and developing nations such as Canada, Japan, and India are offering subsidies to the consumers to boost the adoption of electric vehicles. The Canadian government provides a subsidy of around US$3,700 for buying electric vehicles in Canada. Further, the government of Japan offers a subsidy of around US$3,700 for purchasing BEV and a subsidy of around US$1,800 for buying PHEV. The technological developments in the electric vehicle and charging infrastructure such as ultra-fast chargers, portable charging station, load management with smart charging, automated payment systems for charging, and bi-directional charging are some of the prominent factors that are expected to foster the growth of the EV charger market across the globe.
The EV industry is foreseeing an incredible growth in the developed and developing regions around the globe. The higher dependence on the biofuels has resulted in increased levels of air pollution and as a consequences, the prevalence of various respiratory and other diseases is surging among the global population. To curb the carbon footprint and shift towards the clean and green energy are the major factors that are expected to drive the growth of the global EV charger market. The increasing consumer awareness regarding carbon emissions from vehicles, increased environmental consciousness, improvements in the standard of living, and growing adoption of advanced technologies are altogether propelling the growth of the global EV charger market.
Start Your EV Charging Business With Kelylands Today!
Simply Fill Out Your Details And We'll Give You A Call To Discuss The Right EV Chargers For Your Charging Needs.